Green Hairy Mushroom

Green/Brown Large Hairy Mushroom colony. Five very large mushrooms one medium-size and one small one on a elongated piece of coral rock. Excellent, thriving condition. Over the last six months, this colony has tripled in size, spreading another large colony to an adjacent rock, so I'm selling the original rock, on which the colony is now twice the size it was when I purchased it. I believe the orig is wild caught, but I'm not positive. Seems to do well anywhere in my 24gal tank with med/high light and medium/low current.

Frag ID:

606-200

Date Posted:

05-06-07

Quantity Avail:

1

Category:

Mushrooms & Ricordea

Genus:

Rhodactis

Species:

indosinensis

Source:

Wild Caught

Common Names:

Hairy Mushroom

Frag Color:

green

Frag Size:

large

Price:

$49.00

Will Ship To:

USA - Midwest/Central
USA - West Coast/Pacific


Shipping Cost:

$9.00

Shipping Details:

Ships UPS overnight at actual cost. If in CA, for instance, UPS ground to will make it overnight to most places for about $9.
| | |
| --- | --- |
| Username: | incolor |
| Location: | Santa Barbara, California USA |
| Entity: | Individual |
| Registered: | 04-01-07 |

User Rating:

No Rating Yet

Payment Methods:

Credit Card
Money Order
Trades


Looking For:

------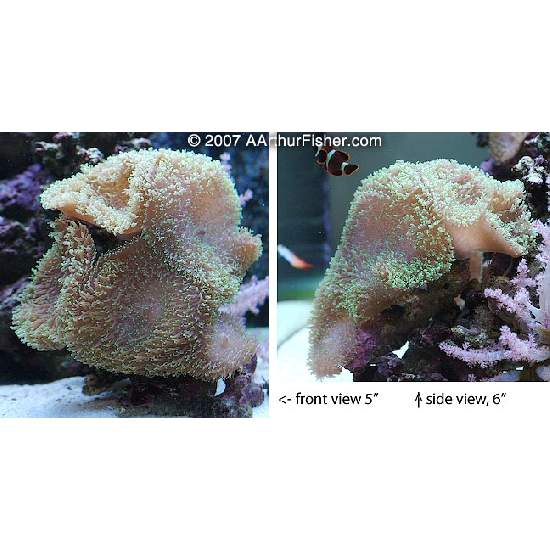 Comment/Question #1

Posted By:

flobi18

at 05-04-07 10:47 PM

Comment/Question #2

Posted By:

incolor

at 05-06-07 05:25 PM

Login to post questions or comments.
If you have not already registered then register now.
Registration is fast, easy, & free.